Last Sunday, 17 year old Junior Glider Pilot Ben L flew his first cross-country solo gliding flight from Stratford on Avon Gliding Club.
After achieving my bronze and cross-country endorsement (Thank you Mike, Barry and Andy) I was keen to take the leap and fly out of gliding range of the airfield on my 50Km attempt. But before I could embark on this adventure, I received an email saying my application for the 'Junior Nationals' two seat training had been accepted! I spent 10 days at Bristol and Gloucestershire Gliding Club where I flew with some of the UK's best pilots and had a go at some competition racing. Overall, I achieved more than 10 hrs of training on my three flights, which was all subsidised by the BGA!
This amazing experience motivated me even more to embark on my 50km flight, but with a few setbacks due to weather I found myself frustrated and looking at every forecast I could get my hands on, waiting and longing for the perfect day. That day came on Sunday the 8th September 2019 and I woke up early, excited about the potential day ahead. I helped prepare the gliders for flight and spent some time carefully wiping down the wings of the Astir, to ensure every last part of the gliders performance could be eked out. Many thanks to all that helped me prepare the Astir and to Mike ensuring my flight plan was up to scratch.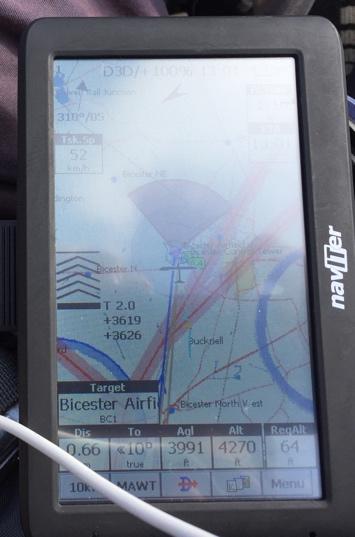 I took off at 12:45 aiming to fly 53.5km to Bicester airfield then another 53.5km back to Snitterfield! Well that was the plan anyway. After launching I secured my first climb of the day gaining 1,841ft with an average climb rate of 2.5knts. Eventually I started my task at 13:09 and with 3,500ft I pushed south leaving behind me the birds that had just aided my last thermal choice.
Following and jumping the cloud streets I flew over familiar sites, two of which being Caffeine and Machine, (a car enthusiast's dream place) and eventually the M40, whilst still using all the ground reference points to ensure my electronic nav kit was in fact taking me to Bicester.
Eventually after only 50 minutes I found myself approaching the turn point, shortly after navigating around the restricted airspace in which skydivers would be jumping!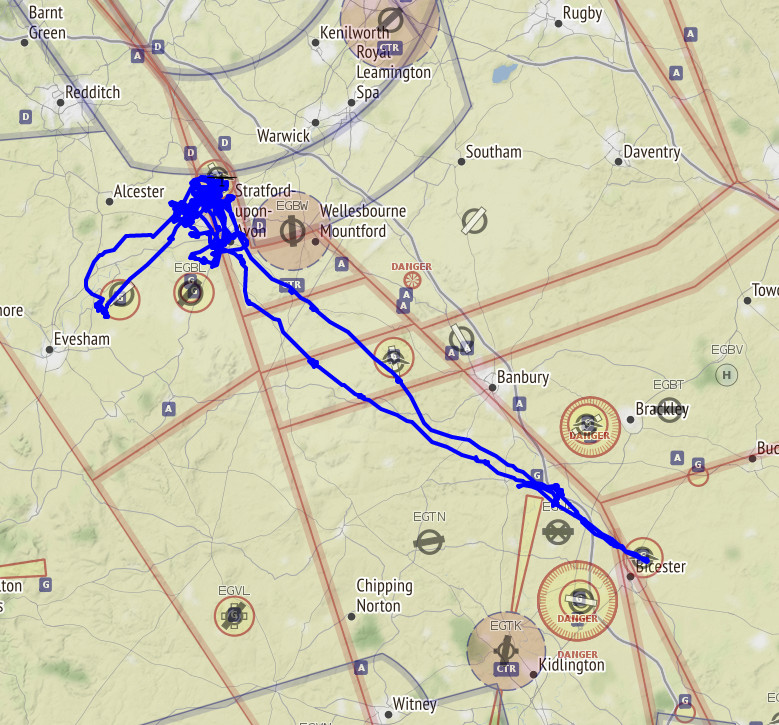 On my return leg I hit the most exhilarating part of the flight, I had just left Bicester and hit some tremendous lift which instilled the thought in my brain that the whole edge of this cloud street must be working so I pushed on, only to hit tremendous sink. I continued on to the next part of the street that looked remotely thermic but – more sink!
I made the decision to turn back to the lift I had previously encountered, as by this point I had already lost 1600ft and was down to 2500ft. Staring deeply at the cars whizzing down the M40 I climbed back to 4300ft and continued the flight where I managed to fly at 90Kts down a cloud street whilst holding my altitude. I was back into familiar territory and proceeded to fly towards the finishing line.
It was so rewarding and exhilarating to think I had flown over 100km without an engine! With this thought in my head I continued to fly for another 3 hrs, where I got to see hang gliders, hot air balloons, helicopters and other light aircraft! Just after landing I opened the canopy and heard 'Well done Ben' as some of the members congratulated me on my flight from the glider they had landed just before me.
Overall, I flew for 5 hours, 6 minutes achieving all of my Silver C Badge and part one of my 100K Diploma.
It was a great day and I encourage anyone who has the slightest interest in either taking up gliding or progressing to cross country standard to go for it!
Its awesome!!