How do I try gliding? The easy answer is Just Book a Flight and come along. We really enjoy gliding and our aim is to ensure that you really enjoy it too.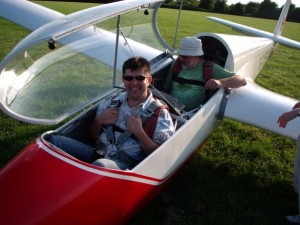 We also sell Vouchers that you can give as a present, and we organise Group Evenings during the week.
You can book to come along for a Gliding Experience. This can be a Trial Lesson with hands-on instruction, or you can leave all the flying to us and just to enjoy the scenery and the experience. Choice is yours and you can discuss and decide what you want to do with your instructor when you visit. We fly on Tuesdays, Thursdays & weekends from April to October, which is the main gliding season when the weather has a chance of being sunny and not too windy. For the rest of the year, we fly regularly every Saturday and Sunday, along with one mid-week day selected on the basis of the best weather.
If you do it this way, a flight including 28 day's club temporary membership costs £75.
You will need to book in advance because if you call on the day (while we will try to fit you in) we cannot guarantee that we will be able to fly you. If you have booked a flight in advance it is essential that you still call the airfield on 01789 731095 between 9 am and 10 am on the day you are due to fly to confirm the weather is suitable for visitor flying and everything else is OK. There are some extra things you might like to know if you're intending to visit us, or are buying a voucher for somebody, and:
This is your First Flight in a glider, or it's your first visit to us
You are 17 Years Old or Younger
You are particularly Large or Small
You are concerned about your Physical Fitness
You have a Disability
Gift Vouchers
If you'd like to give somebody a gift of a Glider Flight we also offer Vouchers for a Gliding Experience with us. To buy a voucher click on this link. For questions, contact Carl by email.
Group Evenings
There is a limit to the number of visitors that we can accommodate during the
daytime on busy days, so we can't accept large groups. Instead, we run Trial Lesson Evenings for organised parties on midweek evenings throughout the
summer.
Temporary Membership
When you sign up for a Trial Lesson or an Air Experience Flight, you will receive
28 days Temporary Membership of the Club at no extra cost. If you take this offer
up, you can fly at Club Rates from then on. You'll be flying as a Club member,
which means that you also need do the same as all other members do, such as
turn up reasonably early, wait for your turn on the flying list, and help out at the
launch point.
All this gives us plenty of time to get you hooked on gliding and to persuade you
that you really want join the Club.
Start Learning to Fly for just £350
Our Introductory Membership provides a flying package for those who dream of flying a glider but who want to find out more about what is involved before they commit to club membership. It gives you three months club membership and £300 towards flight charges giving you ample opportunity to find out if gliding is for you. If you take out an Introductory Membership within 28 days of a Gliding Experience flight, or a One Day Course then we offer a £50 discount making it even better value.
This gives you an opportunity to fully participate and learn to glide like our Club Members and will allow you to understand what is involved in learning to glide before committing to full membership. We very much hope that at the end of your Introductory Package you will be hooked and want to continue flying with us. For more details contact Dan

(terms and conditions apply)
Courses
We run Courses on weekdays throughout the summer, where you come along
for up to a week, and enjoy some more intensive flying. Many people come on
these as a holiday, but don't have the time to take up gliding as a full-time hobby. For others, it's the first step into the sport, and many people get addicted
and join the Club as a result.
What To Wear
All aircraft benefit from some wind during the launch and landing, so airfields are usually sited in exposed windy places. Snitterfield is no exception. If you're coming along to visit us, come prepared for the weather. On a cold day, the wind can go straight through you, so make sure you have warm windproof clothes and waterproof shoes. On a warm day, a lightweight windproof jacket may still be a good idea because there's little shelter at the launchpoint. On a hot day, any wind is a blessing. On the other hand, sun glasses, a sun hat and sunblock are essential.
Don't wear your best clothes, they're bound to get creased when you're strapped tightly into a glider. Jeans or slacks, sweaters, shorts, T-shirts, trainers and the like, are typical glider-pilot attire. If you're coming for a full day or longer, it might be a good idea to bring a pair of working gloves, because we will be asking you to help out at the launch point.
Some people enjoy mucking in more than others, of course.
Cameras
If you want to take pictures during your flight then this is usually possible provided that the camera is not too large and has a strap so that it can be securely attached to you and it cannot be dropped inside the glider while you are flying (so no mobile phone cameras).