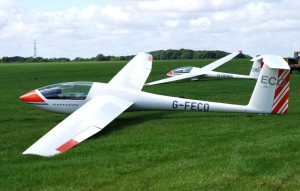 The Fleet
We have three two-seater training aircraft:
…three single-seaters:
An SZD 51-1 Junior
A Grob Astir CS 77
An LS4
…and a Touring Motor Glider
SF25-C Falke
There are about 25 privately-owned aircraft at Snitterfield, most of them syndicated between three or four pilots. They range from new modern aircraft such as LS8s, to vintage aircraft such as a Dart 17, Ka6s and a T21. Several of our members are also members of the Vintage Glider Club. There are some pictures of some of these in our Photo Gallery.