We offer a Gliding Experience Gift Voucher which entitles the holder to fly with us in a two seat glider (£80). With your gliding gift voucher you can choose whether you receive a trial lesson and are shown how to use the controls, or if you prefer why not simply enjoy the experience and the views and leave the flying to us.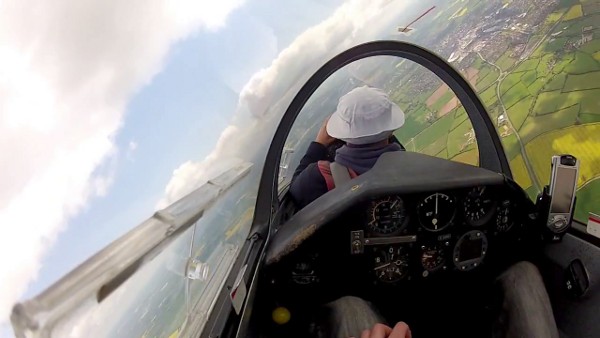 About the Vouchers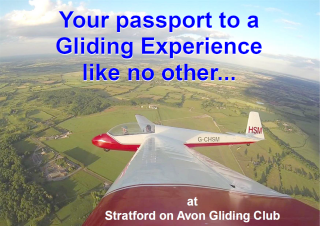 The vouchers are delivered digitally in PDF format and are sent by email. they contain a a unique 'Voucher Code' which you will need when you want to select the date and time of your gliding flight. The voucher also contains information about how to contact us, find our airfield, and some other useful information.
Click here to buy a Gliding Experience Gift Voucher Now!
About the Glider Flights
There will be a full briefing on safety, how we control the glider, and what to expect during the flights. The duration of each flight depends entirely on the conditions of the day and, because of the uncertainties of the weather, we cannot guarantee flight times. However there is no time limit for using the voucher, so it can be kept it until fine weather when the chance of a thermal soaring flight is better. In that event each flight may last a maximum of 20 minutes in the air. After landing there will be a debrief, we will record the flight details on a logsheet and starting the following day you will be entitled to a 28 day membership of our club. You may then return, if you wish, and take more flights at club rates, under the same system as all other club members.
We fly all year round when conditions are suitable. We can usually welcome visitors at weekends, and we are also usually open on Tuesdays and Thursdays between April and October. We run an online booking system, so you can book your preferred day and timeslot. You will need to phone again on the day of your flight between 9 am and 10 am to confirm your booking and check that conditions are suitable for flying visitors. Full instructions are included in the voucher pack.
There are some constraints on the age, size, and health of the people we can fly with. The only considerations are for your safety and the safety of your instructor. If any of these apply to the person you are buying the voucher for, please read the relevant information.
This is your First Flight in a glider, or it's your first visit to us
You are 17 Years Old or Younger
You are particularly Large or Small
You are concerned about your Physical Fitness
You have a Disability
Cameras: if you want to take pictures during the Glider Experience flight then this is usually possible provided that the camera has a strap so that it can be securely attached to you and it cannot be dropped inside the glider while you are flying (so no mobile phone cameras).
If you are in any doubt about any of the above information, please contact Carl by email.