Every week from May to August, on Thursday evenings, we invite organised
groups to come and fly with us.
THIS IS HOW TO GO ABOUT IT. To arrange an evening for a group of 5 to 20 willing enthusiasts, or to find out more about it please contact Nick, email. Once everything is set, you turn up on the evening that you booked, and let us introduce you to the magic of silent flight. If there are less than 8 in your group, we may put you together with another small group, or ask you to choose a different date when the evenings are shorter. For more information, please email us
If you're organising an evening, please email us and we'll take it from there.
WHAT IT COSTS AND WHAT YOU GET FOR YOUR MONEY. After a thorough briefing, you get a trial lesson with one of our experienced instructors, hands on if you wish. It costs you £40 per person in May or £45 from June onwards, with a £10 discount for under 18s. Anyone wishing to have another flight during the evening can do so for only £15, daylight and weather permitting. We'll ask for a deposit to confirm your booking (you can pay online, but please get a confirmed booking first), and the rest is due on the evening that you fly.
HOW LONG DO FLIGHTS LAST? Never long enough, is the simple answer. Unfortunately, it depends entirely upon favourable weather conditions. However, it is such an exciting experience that time hardly seems to matter.
WHEN TO TURN UP. We aim to start at 6.00pm, and we begin with an introduction to the aircraft, the controls, and what to expect from your flights. So, in order to ensure that everybody gets a chance, your party should be there by that time. If a few people turn up late, we will be able to accommodate them, but it will cause delays while we give them the introduction.
HOW TO FIND US. Our airfield is situated just north of Stratford on Avon, on the road between the villages of Snitterfield and Bearley. See the Map of the Area.
HOW ABOUT THE WEATHER?. Only extreme conditions will stop us, such as rain, hail, low cloud, thunderstorms, fog, or very strong or gusty wind. Should there be any doubt, we'll try to call the contact number you gave us, or you can call the airfield on 01789-731095 and be patient when you are trying. Should the weather not be suitable for flying, the evening can be rearranged.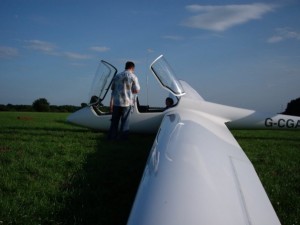 HOW ABOUT SOMETHING TO EAT?. If you feel like rounding off the evening with a meal at a local pub, why not try the Snitterfield Arms in Snitterfield.
WHAT ELSE?. There are Weight and Height limits which are not very restrictive, but occasionally mean that somebody is unable to fly with us. Any Young Visitors under eighteen years of age need the signature of a parent or guardian, so we'll send you a form to fill in. Apart from that…
…JUST ENJOY YOURSELVES!