The Newsletter of Stratford Gliding Club

Issue 47, August 2010
---

From the Chairman
Coventry
Coventry Airport is once again open for business. At the moment it appears limited to cargo flights, executive jets and helicopter charter and training, but I have no doubt that they will try to get passenger services back to the airport. They are operating a full ATC service, and three weeks prior to the time of writing they carried out radar calibration checks.
We will be monitoring the situation, but please continue to keep a good look out for other aircraft. There are plenty about, with the increase in traffic from Wellesbourne, and additional traffic going in or out of Coventry when we are flying is likely to be either a helicopter or executive jet!
Incidentally, we have established an excellent relationship with Wellesbourne, and their operational procedures reflect our existence.
EASA
European legislation is also very much at the forefront at the moment. The BGA have informed me that medical requirements for the LAPL (Light Aircraft Pilots Licence, which will be issued to glider pilots) are likely to be as follows:
Will require a complex clinical examination.
Can only be carried out by either anAME (Aero-Medical Examiner) or a specially qualified GP.
Any pilot who does not fully meet the medical standard will automatically be referred to an AME.
Examinations will be required every 5 years for pilots up to age 50 and at least every two years thereafter.
British Medical Association recommended fees indicate that the cost of this proposed GP medical will be higher than an AME Class 2 medical (£150+).
SERA
(Standardised European Rules of the Air)
It appears that the views of the general aviation community across Europe have not been taken on board.
The fear of the BGA is that these proposals, if implemented as proposed, will affect gliding as follows:
A normal glider flight would be classed as aerobatic and would, therefore, be prohibited unless specific permissions were obtained
No more ridge soaring as we know it
Potential closure of unlicensed aerodromes
We would have to file flight plans with ATC
The BGA are continuing to represent the best interests of all glider pilots in the UK – I will update you as and when I hear anything.
The Summer Season
Friends and colleagues have often remarked that it must have been a really good year for gliding – dry and warm weather from April through to the end of July.
On the face of it, it has been – the total flight time for Club aircraft is higher than it's ever been – 800 hours since the 1st April – and we all can recall many days this year when the conditions for soaring have been excellent.
But the cross country statistics (and those who took part in Task Week) tell a different story.
So far this year, which ends on 30th September, we have logged a total of 7,500km which on the face of it seems quite a lot. But when you consider that in 2007 the total distance flown by Martyn Davies and Phil Pickett alone was 9,121km, it puts this season in a different light.
This is the third year in a row when conditions for cross country flying have been less than ideal. Is this another indicator of climate change?
Fly lots, fly far, have fun, but be safe!
John
---

Club News
The 2010 AGM
The 2010 AGM will be held in the Clubhouse on Thursday 21st October at 19:45. Formal notice will follow in due course.
We've had no new Committee members for several years now, and three Committee members have left in that time, so we're keen to encourage members to join us.
It's easy for a Committee to go stale without new blood and fresh ideas. Contact any Committee member if you're interested, or just send your nomination form to the Club Secretary.
Member of the Year
This year, we'll be making an award to the 'Member of the year'. The winner will be selected, indeed elected, by the Club membership, by a simple ballot.
The rules are:
One member, one vote
There are paper voting forms in the Clubhouse
You can vote by email toMotY@stratfordgliding.co.uk
Email votes must be from the voting member's email address as registered in Glidex
The closing date for votes is 30th September
At least 25 votes must be received for the award to be valid
Committee members are Club members and therefore are entitled to vote
Your vote should contain who you are voting for (obviously), and also your reasons, if you like. These reasons will not be used as part of the ballot, but might be used in the citation for the award.
Trial Lesson Evenings
This year's trial lesson evenings have been very disappointing. We've flown for just thirteen evenings, mostly with groups of just eight or so. It reached the stage that the teams were assuming there was no booking unless told otherwise, instead of the other way round.
It's not just us. Spice, who regularly book five evenings each year, and fill them to overflowing, managed just two evenings this year, both half full.
It wasn't unexpected, given the state of the nation's finances, but the degree of the slump will cause us a real headache. Evenings usually bring thousands of pounds into the club coffers, which we can ill afford to lose. An increase in club flying has compensated somewhat, but inessential spending is very much on hold at present.
---

Ladders
The Badge Ladder
The Badge Ladder currently has two pilots in equal first place, with the highest score the since the ladder was introduced. Daniel Brown and Dave Martin both stand on 2450 points, having done everything there is from First Solo via Bronze and Silver to Cross-Country Diploma Part I.
Time will tell whether they can separate themselves to win the trophy at the AGM.
The Derek Phillips Trophy
The Wooden Ladder is still up for grabs. One good flight in a wooden ship could easily win it.
---
Not so Happy Landings
As some of you will know, I recently had a field landing accident. What most of you won't know are the details of the event and so I thought it might be worth sharing them with you in the hope that you may learn from my experience and avoid a similar situation in the future.
The task was Grafham Water and Bromyard: 305km. It was a good day and I set off just after 12 with lots of good lift and had a great first leg turning GRW with an average speed of 112kph. Cloud base was by now 5000′ and all was going fine until I reached Long Marston, where a large area of spreadout forced me to divert north and generally scratch around in rubbish for a while.
I briefly contemplated turning Alcester and calling it a day, but I reasoned that the conditions would cycle. I then got a 2kt climb to cloud base There was sun on the ground in the distance so I pressed ahead under what seemed like endless black spread-out and emerged into the light just to the north of Great Malvern at around 2000′.
After all the heavy shadow on the ground I had expected some good lift once I got to an area with the sun on it – but I only found scraps. I local-soared the area searching for lift and started to look for fields. But, there were no fields clear of standing crop in this area, no pasture, no set-aside, nothing except a couple of playing fields and an area of ground cleared in preparation for building, which looked fine from 2000′ but which I suspected contained all sorts of nasties. All three options looked sufficiently big although one of the playing fields was certainly on the small side.
At this stage I could have headed down wind, to search for better field options – but with little chance of finding lift back under the black clouds – not very appealing. I hadn't bothered to look for fields on my long glide under the spread-out because I'd been confident I'd find lift once out in the sun again.
I continued to try to work the scraps of lift while staying local to the three field options – I was sure that any second the lift would get going and I'd be away in 4kts and then off to Bromyard. But, no, I continued to lose height gradually and after 20 minutes decided at it was time to land. During all the local soaring I'd been consistently drifting eastwards (to be expected in a westerly!) and in the absence of any smoke or other signs assumed the ground level wind to be broadly westerly. I'd also had plenty of time to re-assess the field size, slope etc. in more detail – they still looked OK.
By the time I'd decided it was time to land I was in a position where only one of my three options remained available if I was to be able to fly a proper circuit (the other two were by now too far up-wind). I did my checks, lowered the undercarriage and flew the circuit, turned finals, selected landing flapà àsuddenly the field was looking rather small. Air speed was OK and I rounded out but the ground speed seemed high. I touched down and pulled on the wheel brake as hard as I could but it soon became clear I wouldn't stop before the end of the field so I aimed for the corner.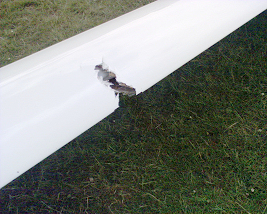 I was probably doing around 10 miles per hour when the port wing hit a steel post at the edge of the field. The glider shuddered to a halt and it all went very quiet. I was fine; not a scratch, but the glider had a large hole in the leading edge of the port wing.
So what when wrong?…
I think there were a number of factors which contributed to the accident – some of which you have probably spotted already.
The flight had gone well right up to the point I got to Malvern, I hadn't been low and so hadn't taken too much notice of the state of the fields and so had not spotted that the harvest was yet to start in earnest.
I had set off under the spread-out knowing I would not be particularly high when I emerged but confidence borne out of the earlier good conditions probably contributed to me not thinking to pay much attention to fields along the way just in case when I got out into the sun there was no lift.
I should have selected the best of the three fields and local soared only that one – especially as one was "on the small side" and another had a dubious surface. The result of local soaring all three was that the decision on which one to use was not made by me.
On landing I found that there was no head wind – instead a 90 degree cross-wind from the north, which remained the case while I awaited the retrieve so it wasn't just a temporary condition. I'm not sure what was going on – possibly a local effect due to the nearby Malvern Hills. But I guess that the lesson is that if you don't have a clear indication of the wind direction at ground level then don't assume it will be the same as it was back at the airfield or on task.
The kinetic energy in a glider is proportional to the square of its speed. As a result of there being no headwind, my ground speed was 55kts. Had I been landing into a 10kt head wind the ground speed would have been 45kts and I'd have had 50% less energy to get rid of, meaning a shorter float and shorter ground run. If there had been the expected head wind I'd have stopped in time.
Finally, having trawled through my log book I noticed that I have only ever had 4 "real" field landings in 12 years of cross country flying (lots of unplanned landings at alternate airfields but those are rather different). I think this is as a result of the relatively cautious way I fly – tending to stay high at the expense of increased cross country speeds. However, the consequence has been lack of currency on picking a field. I don't think I've ever done any field landing checks since my original cross country endorsement. I had assumed that having "regular" (not so regular as it turned out) field landings had the effect of keeping me relatively current but I think I may have been guilty of complacency here.
It makes me wonder how many other regular or occasional cross country pilots are similarly out of practice on their field landings. So my question to you is "when was the last time you had a field landing refresher in a motor glider?" One more good reason for the Club to get permission to use motor gliders!
So were there any positives from this? Yes, I think so:
I walked away unscratched
The glider is repaired
I flew a good circuit (albeit into an bad field) so there was no risk of stalling or spinning-in as a result of a "bad circuit into a good field" which would have been far more serious
I had the presence of mind to aim for the corner of the field and let the wing absorb the impact when it became clear I wouldn't stop in time. The end of the field had a ditch with water in it and old tree stumps camouflaged in long grass, neither of which would have been pleasant to encounter head on
I've learnt some good lessonsà
So I hope the above has given you all some food for thought. I'm off to have a refresher on field selection in a motor glider!!
Andy Balkwill
---

Club Flying Weeks
Sutton Bank
In May we held our twentieth club expedition to Yorkshire Gliding Club (YGC) at Sutton Bank. Ten of our members enjoyed the hospitality of YGC and once again the Club did not disappoint, with 66 hours flown by eight pilots on seven days.
On Friday we enjoyed exceptionally good thermal conditions, so good in fact that two YGC pilots completed 750km tasks: one of them flew 768km at an average speed of 96.5kph (no, that's not a misprint!). The rest of the week saw mixed thermal conditions and some ridge flying.
Special mention goes to Paul McAuley who – for reasons we won't go into – toured the majority of the north Yorkshire moors as he made his way to the coast and back on a very average day. He covered nearly 100km while the rest of were busy just trying to stay airborne at YGC – well done Paul!
We look forward to a return trip next year and to introducing more SoAGC members to this unique site.
Sharon
Camphill
Camphill was a bit worrying this year. Something was definitely different and it drew concerned comments from several people. We are, of course, referring to that great British topic of conversation, the weather, and this year, for the whole week, it didn't rain! Well, not much during the day, anyway. Instead, we had some murky starts but plenty of decent, flyable days with thermals and ridge lift for all to enjoy.
The T21 made the trip, giving us the usual team effort to get it off and back on its trailer – rigging it was a doddle after that! It was worth it though, as almost every time I looked up I could see her in the sky right up until an hour before she was on her way home again.
The evening entertainment included the usual quiz and horseshoe competition, with plenty of time spent in the bar, but had the addition of a surprisingly interesting talk on training geese to fly alongside a microlight for filming.
I will confess I have no idea how many launches were done or how many hours were flown but, as with any vintage rally, that wasn't particularly important. Suffice to say that the Stratford contingent was the largest at the rally, there were plenty of launches, the T21 was well used and Stratford pilots managed to win several bottles of wine at the daily briefing.
Oh, and we won the quiz as well!
Caroline
Task Week
This year's task week, in the last week of July, wasn't a washout, because we flew on seven days out of the eight. The seventeen pilots who took part took 106 launches to spend some 83 hours in the air.
However, it certainly wasn't any good for cross-country flying: the week only produced sixteen flights in the cross-country book, of which just twelve were over 50k, and the longest was 102k.
The barbecue at the end of the week made up for the flying, though. Thanks to Pete Merritt for cooking it, Barry Kerby and Martyn Davies for funding it, and Mike Coffee for doing the washing up.
---

Club Policies
We have now published our Data Protection policy. The Data Protection Act imposes a legal obligation on the way we handle data about our members and visitors. We believe that we follow the letter and spirit of the law in the way we handle our data.
It is, of course, the responsibility of individual members to keep their data up to date, by changing it in Glidex or by informing the Committee. Please do it by email or on paper, though, rather than somewhere less memorable such as mentioning it in the car park at the Club and expecting people to remember.
Obsolete email addresses are a particular problem, since we are trying to use email rather than snail mail for Club information wherever possible.
---
High Flight
by John Gillespie Magee Jr
  Oh, I have slipped the surly bonds of earth,
  And danced the skies on laughter silvered wings;
  Sunward I've climbed and joined the tumbling mirth
  Of sun-split clouds and done a hundred things
  You have not dreamed of: wheeled and soared and swung
  High in the sunlit silence. Hov'ring there
  I've chased the shouting wind along and flung
  My eager craft through footless halls of air.
  Up, up the long delirious, burning blue
  I've topped the wind-swept heights with easy grace,
  Where never lark, or even eagle flew;
  And, while with silent, lifting mind I've trod
  The high untrespassed sanctity of space,
  Put out my hand, and touched the face of God.
EASA Supplement
Pilots must ensure that all surly bonds have been slipped before aircraft taxi or flight is attempted.
During periods of sky dancing, passengers and crew must keep seatbelts fastened.
Laughter silvering must not be used when there is risk of icing.
Sunward climbs must not exceed the aircraft ceiling.
Passenger aircraft are prohibited from joining the tumbling mirth.
Pilots flying through sun-split clouds under VFR conditions must comply with all minimum clearances.
Only test pilots may perform these hundred things.
Wheeling, soaring, and swinging will not be attempted except in aircraft rated for aerobatics.
Be advised that sunlit silence will occur only when a major engine malfunction has occurred.
"Hov'ring there" is an indication that a flight emergency is imminent.
Pilots and passengers encountering shouting winds must not shout back.
Pilots flinging eager craft through footless halls of air are reminded that they alone are responsible for maintaining separation from other eager craft.
Should any crew member experience delirium while in the burning blue, declare a flight emergency.
Windswept heights will be topped by a minimum of 1,000 feet to maintain VFR minimum separations.
Aircraft engine ingestion of eagles is generally more damaging than of larks.
Aircraft operating in the high untrespassed sanctity of space must remain in IFR flight regardless of meteorological conditions and visibility.
Pilots and passengers are reminded that putting out their hands to touch the face of God may result in cabin depressurisation.