The Newsletter of Stratford Gliding Club

Issue 45, February 2010
---
Derek Phillips
Derek Phillips passed away on 21st December 2009 after a prolonged illness.
A very keen pilot, Derek started gliding about 55 years ago when he learned to fly on SG8 primary gliders on a course at Nympsfield in 1955.
After serving as an Aircraft Rigger and Engineer in the RAF during his national service he was, later, trained by Eric Rolph at Moreton-in-Marsh as a BGA inspector in the mid 1960s.
During his gliding career, Derek flew as a member of a number of clubs including the Midland Gliding Club, the Worcestershire Gliding Club at Bidford – the predecessor of Stratford on Avon Gliding Club – and at Enstone.
Following the Worcestershire's club's re-formation as Stratford on Avon GC in 1972, he re-joined and remained a member ever since.
Derek was also a keen and well respected member of The Vintage Gliding Club and owned shares in an Oly and an Eagle as well as a Standard Cirrus.
During a large part of his 37 or so years at Stratford he provided an invaluable service when C of A time came around, charging little or nothing for his services. In addition he served as Technical Officer at Stratford for many years.
His work as an Inspector, and later as a Senior Inspector, on behalf of Stratford members and many others in the gliding movement, especially the Vintage Gliding Club, probably has no equal.
Derek always had time to help solve problems with gliders or give good advice as well as frequently providing access to his workshop for club members.
His efforts on behalf of Stratford on Avon Gliding Club were acknowledged by the club when he was awarded life membership in the late 1980s. He also received a BGA Diploma in 2007 as recognition of his contribution to gliding.
Derek had many friends in gliding and will be sadly missed by all.
---

From the Chairman
January has seen the worst snowfall in Stratford in living memory – or at least in my living memory, which admittedly only extends back 15 years. We had almost two weeks when the temperature barely rose above freezing point – the minimum temperature I recorded on our patio at home was -12C.
Traffic chaos ensued, schools were closed, employees forced to 'work from home' (a modern term meaning 'employer sanctioned skiving'), supermarket shelves were blitzed (not sure how people got there – see 'traffic chaos'), neighbours talked to each other for the first time.
Then, virtually overnight, the snows disappeared, bringing with it a different set of problems – flooding. When that subsided it was back to below zero temperatures!
You would think that it would have had a dramatic effect on the amount of flying we've been able to achieve. I was convinced that we would have suffered because of the weather – I thought that January would prove to be one of our worst from a performance perspective and take the edge off what I believe will be a good financial year for us.
Even though doughnut days have been non-existent, but not for the lack of trying, we did manage to fly on 10 days in January – two less than last January – and we amassed 357 launches – our best January total since 2000 and 138 more than last January. Total flight time is also up, though the longest flight recorded was only 25 minutes.
How did we manage to fly so much despite the cold? By flying in thermals of course.
Fly lots, have fun, but be safe!
John
---

Club News
The Spring Meeting
The 2010 Spring Meeting is only a few weeks away now. Please make a note to come along to the Clubhouse on Thursday 25th March at 19:45. Formal notice will follow in due course.
Summer Season Diary
The Summer Season Diary is now available in full on the Club web site. Here are a couple of key dates:
| | |
| --- | --- |
| 3rd May | Seven-day operation starts |
| 24th May | Sutton Bank expedition |
| 26th July | Task and Badge week |
| 3rd September | Seven-day operation ends |
Two Solos
Sunday 31st January saw two first solos, by Daniel Brown (aged sixteen) and Dave Martin (a bit older than that).
By coincidence, Daniel was sent solo by the same instructor (Martyn Davies) in the same aircraft (CCT) as his father, Steve.
Stratford Christmas Fair
The Club put the Junior on display at the Stratford Christmas Fair on 17th December. We had the use of some space next to the canal basin, at the bottom of Bridge Street.
The original plan was to sell vouchers as Christmas presents, although we revised this retrospectively, to raising the awareness of the sport in the local community, largely because the number of vouchers we sold was disappointingly low. We did get our picture in the Stratford Herald, though, so it wasn't a complete disaster.
The aircraft was on display from eight in the morning to eight in the evening, and was manned by teams of Club members who had to brave a bitterly cold day in the open air.
Our thanks are due to all those members who risked frostbite, hypothermia, and McDonald's coffee to help the Club.
Bronze 'C' Lectures
This series of lectures is primarily aimed at new solo pilots wishing to complete their Bronze 'C' examination paper, but they are extremely useful for all pilots wishing to brush up on any of the subjects covered – all are welcome.
All the lectures will take place in the Clubhouse on Thursday evenings starting at 19:30. The full schedule is as follows:
| | | |
| --- | --- | --- |
| 25th February | Navigation Part 1 | Andy Balkwill |
| 4thMarch | Navigation Part 2 | Andy Balkwill |
| 11th March | Principles of Flight Part 1 | Phil Pickett |
| 18th March | Principles of Flight Part 2 | Phil Pickett |
| 1st April | Principles of Flight Part 3 | Phil Pickett |
| 8th April | Air Law | Pete Fanshawe |
| 15th April | Meteorology | Martyn Davies |
| 25th April | Radio & Airmanship | Steve Brown |
| 29th April | Exam | Steve Brown |
If you intend to sit the exam on the 29th April, could you please email Steve (cfi@stratfordgliding.co.uk) and let him know directly.
If you have already got your Bronze 'C', ask yourself this question: 'Would I pass the exam if I were to sit it again tomorrow?' If your honest answer to this is 'No!', then come along – I'm sure that you will benefit from attending .
Tenner-Off Vouchers
These vouchers, which bring a full-price visitor flight down from £50 to £40, will be available again this year. Last year, they got us some publicity, although only a few were redeemed. However, we've got lots left, so we're overprinting the 2010 expiry date.
Any member can use them wherever they see fit, to try to get more visitors to the Club.
Launch Assistants
The launch assistant is the piece of kit in CCT that sends the ASI readout to a display in the winch. We're going to buy two more of these soon for the other K13s, and possibly two more later for the K18 and the K8.
They do a good job of keeping the launch speeds right, particularly near the top of the launch where the stresses are at their highest.
---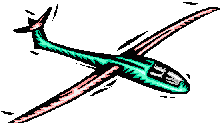 CFI's Corner
With the season rapidly approaching thoughts turn to annual refresher flying. We all have to do them, even CFIs have to do them, but the only advantage is they only have to be done every 5 years with our Senior Regional Examiner.
I finally completed my refresher flying in January when our SRE paid me a visit at Stratford. He was most impressed with our clubhouse and the briefing facilities and I believe they are on a par with any of the larger clubs. He also felt our general flying operation was well run so thank you to everyone on site on that Sunday for their efforts in making the day run smoothly.
Instructors will know for many years the BGA have always sat on the fence as far as down wind checks go, and different clubs might use something totally different from us. I and a few of the more senior members will remember LUFSTALL being used as a down wind check, I think I have got that one right. I will buy a beer for the first member to email me with the correct interpretation of that mnemonic, sorry, instructors don't qualify.
Anyhow, back to my refresher flight with our friendly SRE, we had quite a discussion on down wind checks, first of all the BGA would now like us to call them pre landing checks, and we should be using WULF or if you want to stick A and R on the end that's fine, and of course we all know what the letters in the mnemonic stand for don't we, if not ask.
Secondly, the pre landing checks shouldn't be left until the down wind leg, they should be carried out prior to joining the circuit at the high key area. Immediately you have passed through the high key area, that is the time to make your down wind call. Generally, pilots have made a great effort to use the radio in circuit but I still hear pilots making down wind calls when they have just passed the low key area, which is far too late.
And remember the old saying Aviate, Navigate, Communicate, so please if the flying is getting a little tricky, forget trying to use the radio and just concentrate on flying the glider.
Refresher flying is just that, a minimum of a couple of flights with an instructor to refresh on things we might be rusty on, and of course with the compulsory launch failure thrown in for good measure.
Finally, a note about YouTube. To those of you that haven't heard of it or don't even care or even know what it is, you don't have to worry about this. But with the very latest technology, the size of video recorders has got to the point where they are smaller than a matchbox, and that makes them ideal for taking up with you, on a fixed mount of course, and taking some great shots. I have done it myself with some great results, and we'll be taking some promotional videos for the Club too, for the web site and the Clubhouse.
In no way do I want to discourage this, all I ask is that these miniature cameras are mounted securely, and as far as YouTube, or any similar website goes, can I ask that anything you publish on YouTube or on the internet is shown to myself or John D first. This is because once it's on the internet it's there for the whole world to see, that includes the BGA, you know what I mean. Of course, the above only applies to any videos shot at Snitterfield.
I hope everyone has a safe season with plenty of flying and no mishaps.
Steve
---

Trial Lesson Evenings
These evenings generate a huge amount of income for the Club, worth £70 or £80 off each of our annual membership fees, without interfering with our own flying. We need to maximize the number of evenings that we sell, and spread the work among the members.
So, we are actively seeking volunteers to help out on these evenings. We need team leaders, instructors, winch drivers, and ground crew. By the time you read this, there will be a notice up in the Clubhouse for you to sign. We need six teams of eight or nine people each, on duty on one evening every two weeks from May to August. Ideally we need fifty volunteers to avoid some people having to double up.
We also need you to help sell these evenings, either by bringing a group along, or by passing on the details to others who might do the same. Information packs are available for distribution to groups such as companies, clubs, and pubs, and are also available for download from our website. Please take as many as you can distribute.
We've always had difficulty of selling evenings in May. The evenings are long but the weather is somewhat unpredictable. This year, we will be running open evenings for anyone to come along and fly, at the special rate of £30, or £15 for juniors. We'll be publicising these in the local press, and asking all the members to help get the message out.
This also means that the six teams will be on duty on each of their allotted dates during May, and we need some of the team to be there for evenings that are affected by the weather, so that anyone who does come along can still be introduced to the Club, the aircraft, and the sport. The first evening for Team One will be on Tuesday 4th May.
---

Heavy Landings
You will probably be aware by now that the K18 is undergoing major repairs following an unreported heavy landing.
We all have mishaps from time to time and nobody means to get it wrong, but it happens. Equally we all have pride, and hopefully take pride in the way we fly. As instructors and inspectors, we are not in the business of giving a bollocking, rather of ensuring we all enjoy our sport in the safest possible manner, and so it is essential we do not let our pride override our heads in the event of a slight mishap and in fear of feeling belittled.
So if you do have a heavy landing, report it! OK, your pride may take a denting, but you'll soon get over it and it'll be forgotten. But could you ever live with yourself if the consequences were to prove fatal further down the line?
It cannot be stressed enough how essential it is that any heavy landing is reported to an instructor or inspector and his advice sought before the glider is flown again.
Remember, what may seem pretty innocuous may exacerbate previous, hidden damage, especially on older, heavily used club gliders. Our gliders are almost exclusively launched by winch, and therefore spend time close to the edge of the flight envelope on every flight. This repeated exposure of the airframe to high stresses will weaken the structure over time and damage can be hard to spot, especially if you are not specifically looking for it.
If an incident is not reported at the time of its occurrence any damage that may be present would be unlikely to be found on subsequent DI, and the result really could prove fatal on a later launch.
Phil Pickett
Technical Officer
---

Club Policies
Over the years, various Committees have developed many policies which guide the way we run the Club. Up to now, these policies have remained within the Committee. However, many of these directly affect Club Members, so we have decided to document them properly and make them generally available. It's an on-going project, but the first two policies are now in a binder in the Clubhouse. New policies, and changes to existing policies, will be announced inThe Wire, although in general it will just be a brief summary.
The first is, inevitably, a statement of our Policy on Policies. This one is copied in its entirety below. The second is Complaints and Appeals, which was adopted verbatim (except for the spelling mistakes) from the recently published BGA Policies Pack.
Club Policies
The Committee develops Club Policies as the tools by which it tries to ensure that the Club, the Committee, and all Club Members comply with the Club Rules, BGA andCAA requirements, and national legislation.
It is the policy of Stratford on Avon Gliding Club to document its policies, and to publish them to all members of the Club.
Any Club Member who has an issue with any aspect of a Policy can raise this with the Committee, who then consider it within a reasonable time. It is for the Committee to decide whether and what to change. The Member can raise the issue at a General Meeting if they feel the Committee has not adequately dealt with it.
None of these policies is immutable, but changes indicate a significant change to the way the Club is run. All Club Members will be informed about new policies and changes to existing policies.
The Club policies are printed and collected in a binder which is kept in the clubhouse. A printed version is the conclusion of whatever deliberations resulted in the policy. Other documents, such as working documents which explain the reasoning, or the originals of documents from other sources, must be retained in soft form together with the soft form of the printed version.
A policy based on an external document from another source, such as the BGA, is based on it at the time the policy was approved. Changes to external documents do not automatically become Club policy. However, such changes should be considered for incorporation into the Club policy.
Complaints and Appeals
This policy deals with the way complaints are handled within the Club, what disciplinary measures might be taken as a result, and the rights and mechanism of appeal against such measures.