The Newsletter of Stratford Gliding Club

Issue 44, November 2009
---

From the Chairman
There will be a lot going on behind the scenes through the winter. Our immediate objectives?
Maximise the sale of Trial Lesson Vouchers
Increase our 'visibility' within the local area
Organise more corporate days for the first half of next year
Hold 'Open Evening' events in May
Firstly we hope to display a glider at one of the Christmas markets in Stratford – they happen every Thursday from about now until Christmas. The aim is to sell Trial Lesson Vouchers, but also (and more importantly) make ourselves known to the local populous. Of course we need your support to do this.
Moving on to next year, we are hoping to have several corporate days before the seven day ops start. We have the facilities to fly, so why not make use of them for profit when we would otherwise be closed? Of course we need your support to do this.
Trial Lesson Evenings are available from May onwards, but those dates in May have always been difficult to sell. In the past, the Club has held 'open days' where we have fully focused on flying members of the public rather than our own personal flying. We have had varying degrees of success with these events. So why don't we use those evenings in May that we find difficult to sell for this purpose? We still need to do some work on this idea – namely how to publicise it – but if we plan it properly, we could attract new members to our Club. Of course we need your support to do this.
Speaking of Trial Lesson Evenings, once again we will be producing packs that with your help can be distributed to potential customers. In the past we have done this from April onwards, and whilst this has been effective, we feel that they could be more effective if they are delivered to our prospective customers earlier. Who are our prospective customers? It could be any business, club, pub, Women's Institute etc etc. All we need is for our members to pick some up and deliver them. Of course we need your support to do this.
Having read the above you may feel that the emphasis is geared too much towards visitor flying, rather than Club member flying. There are good reasons for this:
We need to increase our reserves at the bank – visitor flying helps to achieve this.
When membership numbers are decreasing at 5 per year we have to replace this lost income by other means
Visitor flying is how we recruit new members
It is pretty obvious, but membership numbers decreasing at the current rate is not sustainable. Until such time as we start to increase our membership year on year, we need to ensure that we maximise the revenue from visitors and events. Increasing our membership has to be a long term goal – if 40 new members joined tomorrow we would not be able to cope, and 38 of them would not rejoin and we would probably lose more of our existing members in the process. I have always believed that 120 full flying members is the ideal number for our Club, but it should take at least five years to get to that level from our current position.
Traditionally we try very hard to recruit new members, and to encourage them to stick with us during the winter (via the New Members Meeting and general encouragement). But as Dianna King rightfully pointed out to me – what do we do to keep the established members who drop off the radar? We will be addressing this situation.
So, my personal goal this coming year is to increase the total of full flying members by five!
One final thought. Put yourself in a time machine and zoom forward ten years. Who is running our Club? Who is Chairman? Who is the CFI ? Who is doing all the jobs around the site that need to be done? Who is repairing our vehicles? Who is repairing our aircraft? Who is….?
Fly lots, have fun & be safe!
John
---

The 2009 AGM
The 2009 AGM was held on Thursday 22ndOctober in the Clubhouse. There were 48 members present, and 25 apologies. The main speakers were the Chairman, the Treasurer, and the CFI.
---

Treasurer's Report
The 2008/2009 Season
The accounts show a loss of £4,231 compared with an almost identical loss of £4,233 the previous year. Total income was down by £12,346 (£97,488 down to £85,103), within which flying fees are down more than £6k, subscriptions are level and trial lesson and course income is down by nearly £4k. Our total operating expenditure fell by £12,348 (from £101,682 to £89,334), demonstrating our resolve to keep costs under control.
After several years of continual increase, insurance costs fell by nearly £2k, due to a no-claims discount. There was a decrease in aircraft maintenance of £9,300 which was largely down to EASA implementation. Repairs to vehicles were down by nearly £2k, thanks to the efforts of Steve Pearce. However, total depreciation costs have risen by over £1,100 due to the addition of the Workshop and new Clubhouse to our asset register.
The 2009 Season So Far
The Workshop was completed at a cost of £25,200 and the Clubhouse at a cost of £38k. We need to continue with the Clubhouse fund until the member loan is repaid, and through the 49ers, social events, and gift aid, we are on course to do this. In fact we have just repaid one third of the loan to the member concerned.
As a result of a much improved summer, our income is up for the first six months of this year, against last year. Subscriptions are down £2.5k, but flying fees are up £7k, trial lesson and course income is up £4.5k, and on top of this we have the benefit of the Peugeot event.
The summer was good but not stonking, but good enough to encourage members to keep launching to find that better thermal. We now have a much better chance of returning to profitability at the end of this year. One of our objectives must be to rebuild our cash reserves.
The main cause for concern is the fall in subscriptions. Our rates went up but the total income has fallen, meaning only one thing: we have fewer members.
---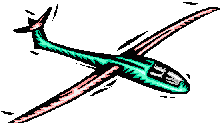 CFI's AGM Report
Expeditions
Itwas about time that the weather failed to support us at Sutton Bank. After all, we had been very lucky in the last few years. Indeed, the YGC members were beginning to rely upon SGC for fine weather. It was not to be, however I understand it didn't stop the visits to the local hostelries.
Task & Badge Week was OK
The first Saturday of task week was the best when seventeen cross-country flights were logged, for a total of 2830Km including five 300Ks. The remainder of Task week provided some interesting and challenging conditions. Overall, nineteen pilots recorded thirty flights in the book, for a total of 4539Km, and there were nine out-landings, all safe. Pilots recorded 143 hours in the air.
Seven-Day Operation
This year more course days were flown than over the last few years. There were good days during the weekday operations, but generally it was only an average summer. One of the best weeks was at the beginning of September when Phil was on holiday, during which three pilots successfully completed their Silver distance.
Basic Instructors
Richard Maksymowicz and Martin Palmer completed their BI ratings in September. Their course was run at Stratford by two visiting examiners.
Official Observers
We need more OOs. To qualify, you need one of the following:
Hold an Instructing rating
Be a Silver C pilot
Have been involved in gliding over the last 3 years.
You also need the CFI and Chairman's recommendation, and you need to read an understand the FAI sporting code. If you think you might be interested in becoming an OO, even if you are a bit unsure exactly what's involved, please contact myself or Barry Kerby.
Accidents
Nationally, it was a bad year for gliding, with several fatal and serious accidents. There were winch launch accidents, field landing accidents, trial lesson accidents. All these are all still happening. Our approach to refresher flying is intended to overcome this.
Stratford had one reportable accident, when the Junior tail wheel was damaged.
Off-Season Lectures
The 2009 Bronze C lectures were poorly attended. If there's enough demand, they will be run in early 2010 but they may have to be in a different format.
If there's enough demand, Sharon will run the Radio Procedures lecture again during the off season.
Summer 2009 Flying Stats
| | | | |
| --- | --- | --- | --- |
| | 2009 | 2008 | 2007 |
| Days flown | 202 | 163 | 174 |
| Club glider launches | 4016 | 3499 | 4030 |
| Syndicate glider launches | 876 | 702 | 870 |
| Total launches | 5841 | 4788 | 5771 |
| XC kilometres flown | 18,305 | 12,549 | 29,119 |
| XC tasks | 98 | 77 | 149 |
| XC pilots on ladder | 20 | 20 | 21 |
| Ladder winning score | 7923 | 5120 | 9151 |
| Visitor flights, including courses | 949 | 588 | 871 |
| Individual visitors flown | 519 | 440 | 590 |
For most of these, we are 20% or more up on last year. Visitor flying is the biggest single improvement.
---

Chairman's Report
2008/09 was a difficult year because of the weather. Add to this our capital expenditure on the workshop, and our performance was outstanding. We coped with crisis because of the up to the minute management information that Glidex provides us. We implemented stringent spending restrictions, which are still in force and will continue to be so until with have restored our reserves at the bank.
The Weather
The weather has been a double edged sword this year – it has caused us to cancel too many trial lesson evenings for my liking. Some turned out to be perfectly flyable, but the Duty Instructor was being put in the invidious position of being asked toguarantee that flying would take place! I think that this cost us at least £1,500 in fees.
It was one of those seasons where the weather looked great for soaring, but wasn't. Disappointing, but financially very good, because people try and try again to catch that elusive thermal.
Membership
This year we lost twelve full flying members and as at the end of September had only recruited six. Normally when the weather is as it has been, we recruit more new members, but this year it hasn't happened. We have subsequently had another person join our ranks, and hopefully the New Members meeting did its job and three of the course members will become full members. This downward trend is not sustainable, and we do need to do something to stem the leak.
It is disappointing that there were no nominations for the Committee this year. Our recommended number is fourteen but currently we only have eleven. We do need new blood in the committee – we need fresh minds to help the Club survive and prosper in to the future.
Doughnut Days
The doughnut days have continued. To the end of September there have been five, amassing a total of 105 launches and swelling our bank account by £1,184.
Thanks to everyone concerned with these days: Steve Pearce for organising and providing the doughnuts; the Duty Instructors he press-gangs in to taking charge; and everyone who has taken advantage of these additional days to come down and fly.
The Peugeot 3008
UK Press Launch
Peugeot took over the Club for four days in September, for the UK press launch of the new Peugeot 3008. Over a third of the Club's members helped to make it happen. Credit for the entire event can only be given to one person, Andy Sutton. It simply would not have happened at all were it not for him.
We have received many complements about our Club, from Peugeot employees and contractors, journalists, and even the BGA. The complements are about our facilities as well as the 'professional and friendly' nature of our members. We have gained lots of media exposure in addition to the income generated from the event itself.
The publicity that we have gained from this is world wide. We will never be able to quantify the benefit we gain in terms of new members and visitors, but it is bound to have a positive effect.
The reality of the marketing situation is that for Peugeot, this was a really cheap event and very cost effective. They got their message across in a very novel way – so very different form the usual industry standard.
We also added 231 launches to our tally. 160 of these were members carrying out 'flying demonstrations' to the hordes of arriving journalists, and the remaining 71 were flying Peugeot's guests around the skies.
The total value of these flights at normal member and visitor rates would be been £4307. Peugeot paid for all of this, together with a substantial premium for the use of our facilities and for the services of our members. £1000 of the profit from the flying has been donated to the Clubhouse fund.
---

Club Trophies
Flying Committee Trophies
Best Flight in a Club Glider : Chris Burrows, who flew 126 km, 103km, 52 km and 26km in the Junior.
Badge Ladder : Richard Knight. Most Progress in the year: Richard Knight, for his Bronze "C" and Silver in the year, and for his decision to land at Bidford G.C. to pick up a Logger before continuing his Silver "C" flight. First solo was on4/12/2008 and 126 launchesand 40+ hours since solo.
First 300k of the Year : Barry Kerby.
Club Ladder : 1st Mike Coffee, 7923; 2nd Phil King 7149; 3rd Phil Pickett, 5858.
The Tom Smith Cup for X-C Achievement, and the Andy Coffee Award for Flying Achievement were not awarded.
Committee Trophies
Winch Trophy : Humphrey Yorke.
John Simonite Memorial Trophy, Contribution to the Running of the Club : David Ireland, for his work in selling TLV and courses.
Fred Haines Shield, Long and Meritorious Service : Barry Monslow for his work on the new clubhouse.
The Chairman's Cup : an unprecedented two cups were awarded this year: Phil Pain, for his work on the vehicles, mowing, and everything else he gets asked to do; and Steve Pearce, for the doughnut days that keep the Club flying in the unpredictable weather.
Wooden Ladder
After a recent instructors meeting, we discussed a Cross Country Ladder for wooden gliders. Concern was expressed at the apparent disparity between the points awarded to wooden gliders and to glass gliders on the ladder. The handicapping formula does not appear to place the two types of glider on a level playing field.
We need to offer encouragement to competitive pilots in wooden gliders. Ladder flights would be scored in the same way, but there could be a separate trophy awarded to the top-scoring pilot. This trophy could be open to flights in a wooden, metal, or tubular steel glider. This new trophy will be recommended to the Committee for an award to be given for the 2010 season.
---

Club News
Safe Winch Launching
The BGA have issued a new version of the Safe Winch Launching booklet. Our safety record continues to be good, but it important not to get complacent. Safety is everyone's responsibility, so always look out for yourself and everyone else.
The Committee
The Club Rules require a third of the Committee to stand down. This year, David Ireland resigned from the committee, and Andy Balkwill, Geoff Butler, Nick Jaffray, Ian Kennedy and Chris Wooller are standing down and seeking re-election. There were no other nominations, so the committee is unchanged:
| | |
| --- | --- |
| Chairman | John Dickinson |
| Secretary, Aircraft | Andy Balkwill |
| Treasurer | Chris Wooller |
| Vice Chairman | Nick Jaffray |
| CFI | Steve Brown |
| Membership Secretary | Richard Maksymowicz |
| Vouchers and Courses | Ian Kennedy |
| Site | Chris Bingham |
| Publications | Geoff Butler |
| Bursar | Liz Pickett |
| Vehicles | Steve Pearce |
Winter Flying Rates
At the 2008 AGM, comments from the floor suggested that the concessionary winter flying rates should be dropped because of the financial climate. It was too late to change things last year, because it was a decision made by a General Meeting that would have needed an EGM to reverse it. This year, the Chairman put the issue to the AGM for discussion and a vote.
Martyn Davies spoke in favour of dropping the concession this year, and his speech won over the meeting, who voted by a clear majority of about 65% that there should be no concessionary winter flying rates.
Clubhouse Cleaning
The voluntary system is currently working reasonably well, with more than just the usual suspects helping out. We'll carry on over the winter and make a decision at the Spring Meeting.
Holiday
Season
The Club will be closed from the 24th to the 26th December, open on the 27th, closed on the 31st, and open from the 1st to the 3rd January.
Winter Visitor Rates
From November to February, as last year, we are reducing the visitor flying rates to £35, and the concessionary rate to £25. At the full price, the BI almost always has to offer a second flight free, and we don't always have the capacity to do that in the winter. Second flights are still £10, subject to availability.
---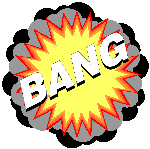 Bonfire Night
On Saturday 7th November we held our 2nd Annual Bonfire Extravaganza, which was attended by about 140 people. It could be our last – that is if legislation comes in to force next year requiring that firework displays are conducted by licensed operators, as opposed to retired firemen! It may be coincidence, but all the firemen I have ever known have been closet pyromaniacs.
At 7pm prompt, the bonfire was lit and food was being served by Pete Merritt& Liz Pickett. Pete had been preparing all day and had an epic quest to find charcoal for the BBQ – luckily for us he succeeded, and the resulting food was plentiful and, as expected, was of Pete's usual very high standard. At the same time Steve Brown, skilfully aided and abetted by Jonty Boddington, served drinks with a flair not seen since Tom Cruise did his thing in 'Cocktail'.
Things were slow around the Buckin' Bronco stand, and the majority of guests were a little too shy to try out theBouncy Castle – both of which became more unattractive to me personally with the increased intake of food and drink.
Raffle tickets were being sold by the sheetful. I duly obliged having noticed a rather natty gadget corkscrew thing amongst the stock of donated prizes, and the 'Guess the weight of the cake' competition had people guessing. I helped by giving helpful clues to those taking part – "somewhere between two and three kilos" I said – and I was right!
The firework display commenced and lasted around 30 minutes, a spectacular display of exploding rainbows, cascades of golden meteorites and brilliant white fusions reminiscent of the formation of the universe.
Everyone then huddled in the dance hall also known as the T21 hangar (also the location of the bar) for the all important drawing of the raffle prizes. Tickets in hand, all eyes were on the tickets being plucked from the box – would it be mine? Eventually with only two prizes remaining – one of which being the wine rack that is always on offer as a raffle prize but never collected – my number was drawn. Not that I was aware of it – had it not been for the vigilance of the friendly (but sometimes absent when you needed a drink the most) bar staff I may have missed it altogether. What luck! The only remaining prize (other than that ever-present wine rack) was the natty corkscrew gadget thing, which I duly claimed as mine forever.
Our thanks go to Chris Bingham, Phil Pain, Pete Merritt, Penny Broad, Liz Pickett, Steve Brown, Jonty Boddington, everyone who brought wood, fireworks, and raffle prizes, helped clear the grass for the bonfire, cleared up afterwards, did the washing up, cleared the rubbish, to the weather gods for not raining on us, and to everyone who came along on the night. Sincere apologies if I've missed anyone out – please blame decreasing brain cells coupled with increasing alcohol level.
All in all, the event raised £693.04 for the Clubhouse fund.
And what of my treasured corkscrew gadget thing? Apparently it has gone to a better life than I could have offered it: a charity shop in Stratford.
---

Christmas Don't
The annual Christmas Do, which was planned for Friday December 4th, has been cancelled due to lack of support.