The Wire

The Newsletter of Stratford Gliding Club

Issue 26, February 2004
---

From the Chairman
The Spring Meeting
This year's Spring Meeting has been arranged for Thursday 25th March and will be held at Snitterfield Village Hall as usual, and will start at 19:45. You will, of course, receive a formal invitation through the post as this is formally a General Meeting of the Club.
Whilst the content of the meeting has not yet been finalised, we will use the opportunity to tell you about things that have happened as well as things that will happen during the summer. So, if you want to know in depth about any of the following, they'll probably be on the agenda:
The 7 Day operation for this year
What the Questionnaire said
What's that new tank thing?
When are the task weeks?
Where's HSM?
Where's GAG?
The future
If this isn't enough to tempt you to come, there's always the opportunity for a beer or two before and/or after the meeting.
John
---

The Questionnaire
Thanks to everyone who took the time and trouble to reply. We received 39 replies, about a third of the Club, which is pretty good. Two people wrote letters, which were also informative.
Most people came up with a similar spread of priorities, so there was no need to adjust the results for that sort of variation.
We haven't done any more than summarise the results and note the extra ideas. However, the summary in itself is quite informative, so here it is.
| | | | | | | |
| --- | --- | --- | --- | --- | --- | --- |
| | 1s | 2s | 3s | 4s | 5s | No |
| | | | | | | |
| 1a) Refurb clubhouse | | 5 | 1 | | | 4 |
| 1b) New temporary | 4 | 9 | 2 | 2 | 2 | 1 |
| 1c) Permanent | 1 | 7 | 1 | 2 | 2 | 3 |
| 2a) New large hangar | 1 | 3 | 2 | 1 | 8 | 2 |
| 2b) New small hangar | | 2 | 2 | 2 | 2 | 2 |
| 3) Glider workshop | 5 | 14 | 8 | 2 | | |
| 4) Kit shelter | 9 | 10 | 2 | 2 | 1 | |
| 5a) Airfield grass | | 2 | 1 | 2 | 1 | 6 |
| 5b) Landing areas | 8 | 12 | 5 | 1 | 1 | 1 |
| 6) Peri track | 8 | 6 | 7 | 3 | 2 | 1 |
| 7a) Upgrade K8 | | 9 | 1 | 1 | 2 | 5 |
| 7b) Upgrade K18 | | 2 | | 3 | 4 | 10 |
| 7c) Upgrade Junior | | 8 | 4 | 1 | 2 | 5 |
There are three or four things there that stand out there, with most people treating them as high priority, and a couple of things that are clearly off the agenda for the foreseeable future. Opinions about the Clubhouse, however, are less clear cut. There were some recurring comments:
A bar is a bad idea
Hangar with clubhouse on the first floor
Upgrade the K8 to a K8 or a K6
Upgrade the Junior to an LS4, Pegasus, ASW19, K23
Fill in back corner of T-hangar as a general store
Airspace issues could affect any decision
---

Aircraft News
C of As
The C of As on the fleet are close to being complete.
The K21, of course, got a new C of A with its refurbishment, and HSM is away getting similar treatment. CCT, CBW, and HDB are all complete and back on site, and HRN is away at the moment. That just leaves the K8, which will go away once HRN is back.
Thanks to all concerned for organising and transporting everything, so that we are in good shape for that first soaring day of the season, whenever it might turn up.
The LS Saga
It seems that the circumstances regarding LS family of gliders are not at all clear. The only thing that is absolutely certain is that Rolladen-Schneider, the manufacturers, are in receivership.
The Receiver has entered into a contract with an unidentified consortium of businessmen who want to move production of the LS to Estonia .
However, Glaser-Dirks, the manufacturers of the DG family, are of the firm opinion that they have a prior contract with the Receiver, and are rather aggrieved about the current situation. The courts have agreed with them, but taking the situation to the legal process will take time and money, and leave nobody better off except the lawyers.
In the meantime, DG are still supplying spare parts for LS aircraft.
---

The Summer Season
The Club will be open, as usual, seven days a week through the summer. However, the organisation will be a bit different this year.
The summer operation is expensive, and in the past we've relied on courses to cover the bulk of these costs. However, the number of courses has steadily declined, from a peak of thirty eight years ago, to ten three years ago and just four visitors last year. There are extra flying fees from Club members, of course, over and above what you would otherwise spend, and there are intangible benefits such as more flying time (and therefore more income) for the organised evenings, and less pressure on the weekend instructors.
Unfortunately, these extras barely cover the shortfall, and the 7-day operation has often been running at a loss. Even last summer, the best for several years, only made a surplus of a few hundred pounds. We really need to run the operation so that it doesn't make a loss.
We had a choice: we could try to turn round the course situation by advertising; we could cross our fingers and hope it gets better; or we could accept the situation and change the operation accordingly.
Now, advertising is expensive: a small ad in Flyer or Pilot for two editions in spring needs to sell 5 courses just to cover its cost, and that's a lot of hard work just to put money in somebody else's pocket. So we decided to go with the flow.
So, one change is that we will no longer offer formal five-day courses. A course is a contract between the Club and the visitor, and in order to be able to honour this contract, we have to employ an instructor and a winch driver to guarantee launch capability. This had to be organised in advance, so we were committed to two employees throughout the summer. Without this commitment, losing a flying day is annoying rather than disastrous.
We will still accept visitors for informal courses, which they can book, but it will just be one standard trial lesson for £30, and club rates for the rest. It's a cheap week this way, and that's the way we're advertising it, but the difference is that there is no guarantee of how much time in the air they can achieve.
The 7-day summer operation will last from May Bank Holiday, Monday 3rd May, to Friday 17th September. We expect to be closed for Sutton Bank and Camp Hill weeks, when a lot of people are away and there is not much demand for flying.
We can't fly without a Duty Instructor, of course, so we will continue to employ one through the summer. Phil Pickett will be running the operation for us again.
We will also be paying winch drivers during the peak part of the season, June, July, and August. It depends on the people involved, so we don't know yet whether it will be a weekly or daily rota, but we have plans for both, and Chris Wooller will be organising this.
In May and September, however, we're hoping to run the winching operation on a voluntary basis, and we're asking for winch drivers who are prepared to sign up to a half-day rota. It's an experiment, but if it works, it will cut down the financial risk for the periods when the weather is less reliable.
So, in summary, we'll be open for 7-day flying from the beginning of May to the middle of September, and the Club will be open for 17 weeks for Club flying.
---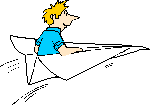 CFI's Corner
Cockpit Pre-Flight Checks
Following the Publication of the 14th Edition of Laws and Rules, we changed our Cockpit Pre-Flight checks in line with the information contained in this New Edition. Many other Clubs have done the same.
I have been recently informed that this change is in fact an error.
A notice is posted on the CFI's notice board to this effect requesting all Pilots to revert to carrying out Eventualities as the last item on the Pre- Flight Checks.
If you have not already read this notice please do so the next time you are at the Club, and before you next fly. The notice gives some explanation as to why 'E' is to remain the last item on our check list.
Snitterfield Corner
The present Procedure for identifying when the Corner is Active or not has been in place for a number of years. I now consider that it is time to review this Procedure. I wish to tell you that I am at this time drafting the New Procedures which I hope to be able to post in the Club House in the next two to three weeks.
The reason that I am giving prior notice to you is that you will not be able to use the Corner unless you use radio to report to Snitterfield Base that you are entering and leaving the Corner.
I appreciate that not all gliders have a working radio and hence the prior notice so that you have time to arrange the necessary equipment to enable you to take advantage of the Corner.
I can assure you that I am not making this change unnecessarily and I believe that this will stand us in good stead in the future.
The BGA Soaring Course
For the second year running the BGA will be running a Soaring Course at Snitterfield. The Dates are Monday the 5th July until Friday the 9th July inclusive.
There are a total of 6 places on each course, 3 of which are already booked. The cost is £130 plus flying fees unless you are under 21 or 25 and in full time education, when the charge is £65.
Simon Adlard will be the Coach. Simon is very experienced at running these courses. He will be bringing the BGA's Duo Discus, flying in which is an experience not to be missed.
If you are a Solo Pilot I strongly suggest you consider getting yourself on this course.
For more information about what goes on, how to enrol and any other information speak to me in person, e-mail, or telephone. Whatever you do, act quickly to avoid disappointment.
---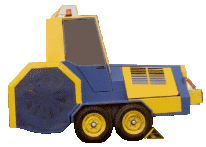 Ground Equipment
The Bus
Some of you may have noticed we have a new bus and all its systems work, including the doors so we can keep out the wind and the cold.
If the air system is not pressurised, the doors will open and close with a gentle push. If the doors will not respond to a gentle push, it means the air system is pressurised and the doors must not be forced.
In this case, use the door switch to the right of the doors from outside or the one above the doors from inside. For these switches to operate, both must start lined up vertical with the doors closed, otherwise the doors may not work at all.
Because the switches are independent, the doors must also be closed with the same switch that you opened them with. This involves some nifty footwork on the lower step to avoid the doors closing on ones vitals, but because of the relatively slow response of the pneumatic system, it is not difficult to escape unscathed.
On no account must the doors ever be forced open or shut.
---

Safety Matters
Nine Lives
What the eye doesn't see
For a whole page of the D.I. Book the glider has been certified, by a succession of respectable citizens, as Serviceable, without comment. Turn over. Next entry said "One canopy bolt knob missing for weeks, found under seat and refitted. Serviceable."
All very nice and tidy. Eventually. Meanwhile, how many innocent pilots had, fortunately, not managed to find the missing knob, the wrong way, in flight! What do I mean? Well, first, did any of the signatories pause to wonder where the missing solid object had gone? And second, how lucky that it didn't fall or roll into and jam up any part of the flying control mechanism and put the aircraft our of the pilot's control.
Chance in a million? Bear with me while I tell you a tale of long ago, of how one day the proverbial nine lives were reduced by at least one for some of us.
Very early one morning
Maybe I was a bit tired, after happily hand-flying for a couple of hours or so, southwards through the starlight over France, while Robbie our skipper did his rounds and then had forty winks on the couch in the centre section. It was still dark when he came forward eventually, yawning and muttering about food. I ran the autopilot up to speed, switched it in and let him back into his seat, and we snuffled hungrily at our packets of sandwiches by torchlight. My torch, out of my kit.
Later in the morning sunlight, we slid down the long invisible rails of a "Bomber Command" approach towards Naples airfield. I stood beside Robbie, one hand lightly on the four close-grouped throttles, waiting for the round-out and his usual order to "Cut!"
It got a bit late and neither came but now the runway threshold was horribly near and high in the windscreen.
Then "QUICK-HERE-GIMME-A-HAND!" and I moved over very fast. Four panic-stricken hands, pulling madly back on the same control yoke, had to make some impression. With a sudden PLRP like biting a grape only much more so, the yoke came back and we flared abruptly, only just in time. The Lancaster , blessed tolerant aircraft, bounced once, with justification, then settled down and rumbled along the runway.
Only a torch
We were both sweating but not only with Italy's overnight heat, as we fished my torch out from down behind the control column, and very funny it looked, all flat in the middle and bulged out at the ends like a large untidy hourglass. Whose fault? Mine mostly of course, for missing a point on checking equipment before joining circuit. But we'd all have been equally dead. And it needn't have been a torch. Lots of other things would have done just as well.
Everything tidy
So if on D.I. you find some small fitting is missing, keep on looking until you're absolutely sure that the missing item is not loose anywhere in the aircraft. And when you're airborne remember to keep everything tidy all the time: sunglasses case, camera, coins, pen, maps, rigging tools, the lot.
Especially too before aerobatics. I mean, you'd be a bit vexed, wouldn't you, to find that you could not "ease gently out of the ensuing dive" because of some small solid object – such as the knob off a canopy bolt – in the wrong place.
Keeping everything tidy is just another of the many possible ways of keeping all those nine lives intact.
My father, Robin Bull (aka The Canopy Doctor) wrote this piece in 1974 when he was a fully rated instructor at the Long Mynd, but it is still just as valid today. Robin was a flight engineer on Lancasters in the wartime RAF, and later took up gliding, which he continued until shortly before his death in 1990.
This piece has particular significance for me. A few years after it was written I took off in my Olympia 460 on a bungee launch. The usual procedure is to fly off the launch and turn left along the hill. At some suitable point you turn right again to follow the hill back. When I tried to turn right, I couldn't. By the time I had found my syndicate partner's spectacles wedged down on the right of the stick, they were looking distinctly the worse for wear. After hearing Dad's story of the torch since I was quite a little girl, you'd think I'd have known better than to get caught that way myself. It just goes to show that you can't be too careful.
Diana King
26 January 2004
---

Club News
GAMGI
Gliding and Motor Gliding International is an online gliding magazine that's come to our attention recently, although it's been going for three years now. It's edited in the UK by Gillian Bryce-Smith, who some of you may know.
It's updated monthly, and is a well-presented collection of news, articles, and opinions, and is definitely worth a look. Its address is
and there's a link on the Links page of our web site.
Expansion at Baginton
One thing that's giving cause for concern is the expansion of Coventry Airport. Snitterfield is right on the centre line of their runway, so anything that changes there is likely to affect us.
The most recent news is that the airport operation has been quietly purchased by TUI, the largest travel group in the world and owners of, among many others, Thompson and Lunn Poly.
That means that there is an enormous amount of financial clout available to overcome any planning objections.
The airport has chosen to ignore planning regulations, by extending the runway with a "safety manoeuvering area", ho ho, and building a temporary terminal to service the Thompsonfly flights that have been advertised and sold from March onwards.
One interesting objection to the planning permission comes from Birmingham Air Traffic Control, who are concerned about the extra traffic feeding into their airspace.
New Members' Meeting
The New Members' Meeting is an annual event, now that we're run two a year apart. These meetings have several purposes.
They are partly to let new members take stock of their situation, and to explain what's coming in their flying career. They are partly an opportunity for new members to ask questions, however naïve, in an environment where that's expected. And they are partly a reminder that we are here, and we'll be flying soon, at a time when new members are most vulnerable to forgetting to come back and fly.
Terry Buffery
Terry was a member with us until 1992, when he decided to Emigrate to New Zealand. I was CFI at this time and felt a considerable loss as I knew that Terry would have been one of our full rated instuctors in due course.
On my recent visit to New Zealand, Mary and I spent an evening with Terry in Wellington and he is pleased to pass this on to his friends and old colleagues:
Terry married a Kiwi, Jo, in February. He works for the NZ equivalent of Social Services as Manager of the National Debt Unit, recovering overpayments of benefits. This means he now lives in the capital, Wellington, in the North Island. He has built himself a Lotus 7 racing car and enters Motorsport events when time permits.
He tells me that his standard of living is such that he has no intention of returning to the UK to live. However Terry and Jo are going to be doing a round the world trip next year, being in England in June 2004, and they will make a point of visiting the club. He will be pleased to hear from any old friends.
T. Buffery Esq.,
69, Farnham Street,
Mornington,
Wellington, 6002
New Zealand
terry.jo@paradise.net.nz
0-4-380 0104 (home)
Dave Benton
---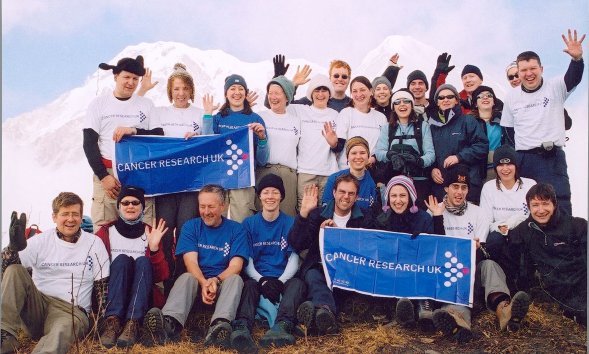 12,000 Feet And Climbing
And there we were. Twenty-two trekkers at 7am in the morning, walking along a narrow ridge on the world's tenth highest mountain, in the fog at minus 6°C (positively balmy compared to the previous nights low of -12°C), heading for base camp.
We'd woken up for the ninth morning of the trek in our canvas tents, defied the cold to have our umpteenth wet wipe wash (you get used to it) and with our backpacks firmly planted on our backs we were embarking on our toughest day – ten hours of trekking from 12,000ft to 15,000ft and back down to 10,000ft.
The weather was unkind. The previous day's spectacular views of the Himalayas' Annapurna range were obscured by fog, and snow was forecast. But spirits were high – even Joan (58) and Francis (62) who were struggling with the last few thousand feet of the climb were having the time of their lives.
Just after 11.30am we reached our highest point. Emma (18) performed a small ceremony in memory of her Dad, even the guys got emotional, and it started to snow. For me that was the best day of Trek Nepal.
For those of you who don't know (is there anyone?!), my sister, Amanda, and I completed Trek Nepal last December for Cancer Research UK, the UK's leading cancer charity.
The trek up Fish Tail Mountain lasted 10 days and covered around 150km. It was a great experience. You trek through lakeside villages, rice terraces and mountains. You experience a death-defying seven hour bus trip to your starting point, fly back to Kathmandu on no-frills Yeti Airlines (honest!), party with the Nepalese in a rice field in the dark (we were drunk on beer, they were drunk on rice wine and doing the Okee Kokee seemed perfectly normal), if you have vertigo you get over it and you learn that coffee with condensed milk and orange flavouring really tastes as horrible as it sounds!
On the down side, my first night at -7°C seemed to last forever (I've never felt so cold), the smell of the long drop loos never leaves you, and the preparation for the trip is lengthy.
My preparation lasted 10 months and involved about 330 hours physical training and 100 hours of fundraising, and cost me about £2,000.
But it was certainly worth it. Our group raised over £80,000. And thanks the generosity of the club and you, the members – who not only sponsored me but also gave up your valuable free time to help me organise two fundraising evenings – I raised nearly £6,000.
I can't thank you all enough for your support and generosity. The evenings and your personal donations raised over £2,500, making all the effort worthwhile.
So, would I do it again? Well there is some talk of a reunion on Everest…
Sharon